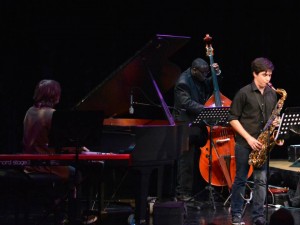 Aaron Lehrian, born on November 12th, 1994, is a pianist from Seminole, Florida. Beginning at age five, he began taking piano lessons from his grandmother, Linda Lehrian, and later took from local pianist and educator, Dr. Duncan MacMillan. He immediately took a liking to the piano and began learning pieces from the classical repertoire. After taking some lessons in improvisation from Kenn Mann and joining the Seminole Middle School jazz band, Aaron fell in love with jazz. He soon began to listen to a plethora of recordings, absorbing the tradition. He continued in the jazz band at Seminole High School, and eventually joined the jazz program at Ruth Eckerd Hall on a full scholarship. Through this program, he had the opportunity to study under Frank Williams and perform at such venues as the Clearwater Jazz Festival and the Lakeside Jazz Festival.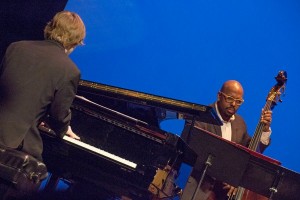 In his junior year of high school, Aaron joined Jazz Juvenocracy, a group based in Sarasota comprised of young aspiring jazz musicians. By performing multiple sold out shows and regular gigs, this group raised enough money to go on a European tour, performing in the North Sea Jazz Festival, Montreux Jazz Festival, Umbria Jazz Festival, La Spezia Jazz Festival, Jazz à  Juan, and the Vienne Jazz Festival. Also in high school, Aaron won the Walker's Rising Stars competition, awarding him $5,000, along with the Justine LeBaron Young Artists Competition, giving Aaron the opportunity to perform Anton Rubinstein's 4th Piano Concerto on a concert with musicians from the Florida Orchestra.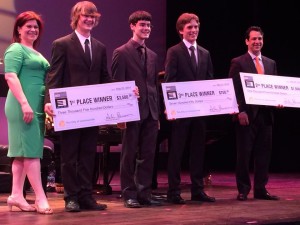 Aaron currently attends the University of North Florida on a music and academic scholarship. Studying under Lynne Arriale, he has further explored the tradition, and has gained a deeper understanding of the jazz idiom. He currently plays in two of the jazz combos, the concert band, and the top big band, Jazz Ensemble 1. With JE1, Aaron has performed alongside such artists as Randy Brecker, Christian McBride, Christian Sands, Ulysses Owens Jr., Wallace Roney, Alon Yavnai, and numerous others. He also began playing regularly with the Jacksonville Symphony Orchestra, in concerts with Jack Everly, John Mueller, Ray Anthony, Jay Richardson, Rob Evan, Shem von Schroeck, and Micah Wilshire.